Original Oil on board by Philip Rose of The Rose Studio at Westward Ho! in North Devon.  This is described on the label as "The North Devon Coast from the sea: looking towards Ilfracombe and Bull Point".  Mounted in a wooden frame.  Approximate size of picture is 9.5″ x 7″.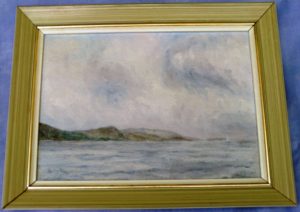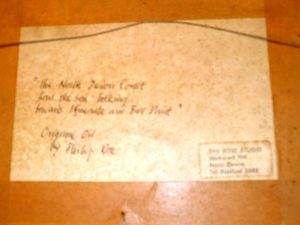 Philip Rose served in the Royal Navy during World War II.  He has been a professional actor and ran his own puppet theatre for 10 years with his actress wife.
He has also been a deep sea yachtsman having sailed more than 30,000 miles of the seas and oceans of the world. He ran, with his wife and daughter, a studio in Westward Ho!, North Devon, for over 40 years selling only their own work – paintings, drawings, leaflets and small models of mythical and legendary figures they designed and carved themselves.
He is now retired and lives with his extended family in a large 14th century house in Bideford, North Devon.